Home
About
Media & Community
Support
Fun Stuff!
Hello and Welcome to the information page for DAS Kanameiji (The Pennsylvania Chapter)!
The following information should answer any questions you might have regarding our chapter of the Delaware Anime Society!
Kanameiji? What's that?
It comes from combining the Japanese words 'Kana' (key) and 'meiji' (stone). So we represent the DAS 'Keystone' members!
Are you new or just new to the area?

The Kanameiji are currently between meeting locations. We're looking for a great new location to meet! If you have any suggestions, either post to our Facebook Group or send an email to Bob, the chapter president.
In the meantime, we are periodically holding meetups at various locations around the area. . Check the Facebook group or subscribe to our mailing list the stay up to date on the current goings on.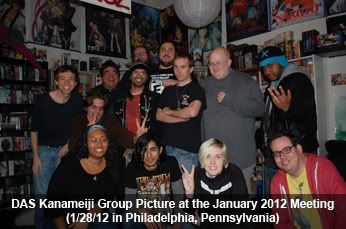 Where We Meet:
| | |
| --- | --- |
| Meeting Location | Maps and Directions |
| Currently looking for a new meeting location. Send your suggestions to Bob. | -- |
NEXT MEETING:
For more info, please click on your desired button below.