Event Details
Come join the Delaware Anime Society (and especially our Pennsylvania Chapter) for an evening of fun at the Brave New Worlds Comics in Willow Grove, PA!
Date & Time: Saturday, March 20, 2009, 7:00 – 11:00 p.m.
Location: Brave New Worlds Comics, 433 W. Moreland Road, Willow Grove, PA (215) 657-8838(Directions)

Brave New Worlds is easily accessible via public transit: R2 Warminster train (which stops in Center City) stops a few blocks away at Willow Grove station. Here is a schedule: CLICK

Also, here's the schedules for the buses that stop at Willow Grove Park Mall, right across the street from BNW:
22: CLICK
55: CLICK
98: CLICK

Event fee: (Potluck) $5 admission with a main dish that can FEED AT LEAST 10 PEOPLE. Some examples are: precooked hot dogs or hamburgers with buns, chicken, chili, sloppy joes,meatballs, tuna casserole, etc.

$10 if you bring nothing but your sparkling personality and witty repartee.
---
Activities
Anime Screenings of shoujo anime! Includes Ranma 1/2, Kare Kano, And Love Hina!
Video Gaming and Tournaments: Compete against your fellow otaku in games such as Mariokart and Wario Ware Smooth Moves!. Not competitive? Have fun playing games during freeplay!
Anime Trivia: How well do you know your anime couples? Find out in our trivia contest!
Cosplay Contest: Come dressed as your favorite anime, manga, or video game character to compete in our contest. Special award for the cutest couples cosplay!
Raffle: Take a chance at earning awesome prizes like DVDs, magazines, toys and more!
Great food, friends and fun! Hope to see you there!
---
Tentative Schedule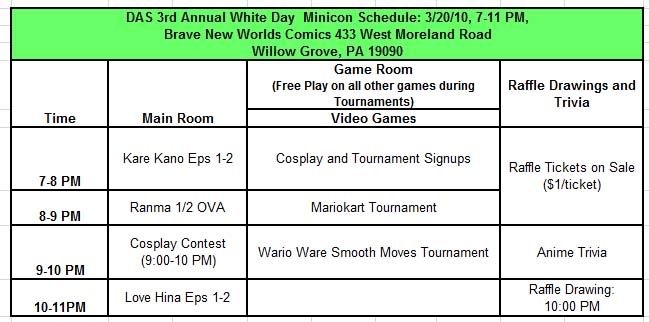 ---
Previous Events
Below are some pictures of our 2009 event for your viewing enjoyment ^_^
BACK to the DAS events page? ^_^